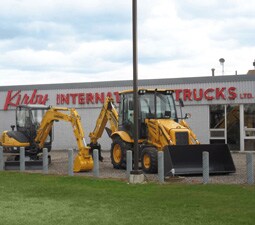 Family Owned, Customer Service Driven
As a division of Kirby International Truck Ltd, Fieldworks Equipment is well positioned to provide construction equipment customers with a local, family owned alternative when sourcing new equipment. With almost 40 years of history serving customers in Ontario, the addition of the LiuGong line is a perfect complement to the existing core business of Kirby International Trucks Ltd. With a combined staff of over 200 dedicated and knowledgeable sales, parts and service employees and eight (8) locations throughout south-western Ontario Fieldworks Construction Equipment is ready to supply customers with their earthmoving and construction equipment needs. Our mission is to provide superior customer service, cost effective business and equipment solutions, and develop long term relationships with our customers.
Price is something you pay,

Value is something you get
Fieldworks Construction Equipment has entered the Ontario equipment marketplace as distributor for LiuGong Construction Equipment. LiuGong has a 50 year history in the heavy equipment manufacturing industry with its core lines focusing on earthmoving and road-building equipment. For the past two decades LiuGong has been a supplier, assembler and manufacturer for some of the world?s most recognized names in the equipment industry. Due to demand the company has now developed lines specifically for the world?s most discerning markets including North America, Australia, Europe and the Middle East. LiuGong is one of the world biggest equipment manufacturers with shipments averaging 3500 machines per month. With advanced manufacturing facilities and an R & D facility with over 550 engineers and a nationally recognized post-doctoral program, innovation and quality are paramount at LiuGong.
LiuGong has received multiple awards from other equipment manufacturers for its manufacturing and assembly facilities and production. Most recently it partnered with ZF, one of the world?s largest and highly regarded transmission manufacturers. Machines are equipped with components from some of the worlds leading OEM parts and component manufacturers.
LiuGong suppliers include: